HR Case Management Software
Manage every complexity, every policy point, every legality. Every time.
Handle everything from grievances to disciplinary matters. Benefit from precision recording, careful handling and fair, consistent management.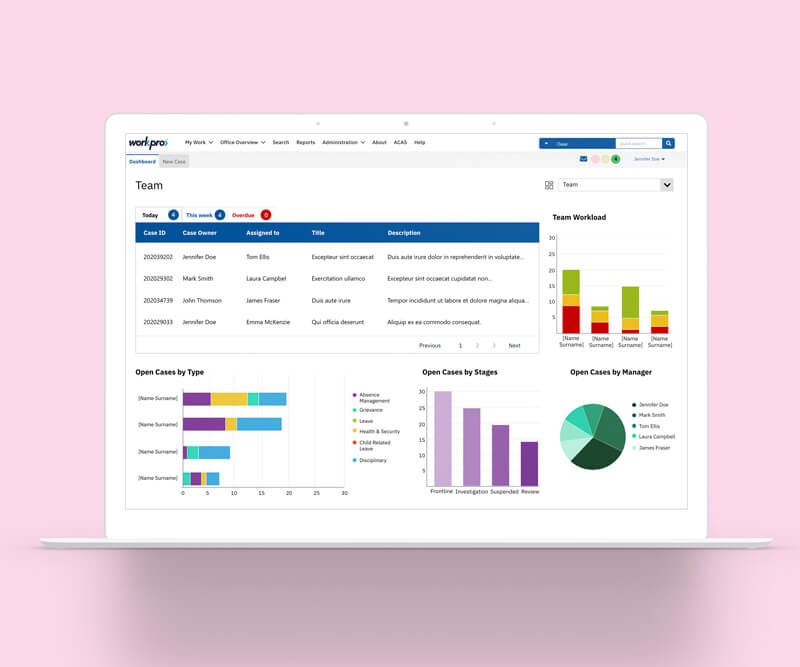 Workpro HR is a complete case management solution that gives you the consistent, fully-repeatable process you need to guarantee fair treatment for every employee. All recorded in precise detail.


Go beyond your standard HR system
Your day-to-day HR system is the place to deal with payroll, holidays and record keeping. However, it's not designed to handle complex, sensitive cases – the ones which could easily end up in an employee tribunal, or having broader implications for your business.
Workpro can access the data you need from your standard system – such as employee names and details – but takes HR and employee relations case management to a whole new level of professionalism.
Automate processes, track timescales at a glance and generate reports – all giving you the control and consistency you need to make sure you're dealing with employees fairly, each and every time.


Benefits at a glance
Complete control at every stage
Highlight issues before they become problems
Fair and consistent, every time
Remove unnecessary risk


Included as standard
20 HR case types
Stages and outcomes appropriate to each case type
Templates for creating letters and emails
Standard reports library
GDPR-compliant data protection case types
All customisable and extendable


Supporting line managers
From absences to grievances and performance, and all the other issues that can arise in a team, line managers play a huge role in maintaining good employee relations. How do you ensure this happens fairly and consistently across your organisation?
This is where the optional Workpro Connect module comes in. Workpro Connect is a self-serve tool which provides clear, intuitive case management support for line managers. It ensures line managers and the central HR team can securely correspond and collaborate on cases as needed. With every case logged, actioned and reported on within one secure system, the HR team and their managers can see exactly what is going on throughout the organisation.
A choice of dashboards for clear, "at-a-glance" case tracking
Case Capture
Quickly record all case details, however they come in - email, letter, web, phone, text or via our optional Workpro Connect portal.
Case Capture
20 Configurable HR Case Types
'Ready to go' HR workflows guide users through the correct process. Configurable to match your policies.
20 Configurable HR Case Types
Document management
Store all documentation in the case record and easily bundle it for sharing. Optional PDF editing and redaction.
Document management
Alerts & Reminders
Highly visible alerts, reminders and tasks drive action, while any vulnerabilities or risks are flagged.
Alerts & Reminders
Auto-populated Templates
Email and letter templates are auto-populated with case data, with seamless MS Word integration.
Auto-populated Templates
Case & Task Ownership
Allocate and reassign case owners for full accountability. Tasks can be manually or system-generated.
Case & Task Ownership
Reporting & Analysis
Built-in standard reports library and flexible report writing tools. Well categorised data ensures accurate, meaningful reporting.
Reporting & Analysis
Performance Monitoring
Track casework using comprehensive dashboards, case and task views, with any issues highlighted.
Performance Monitoring
Quick and Advanced Search
Everything is searchable, down to document level, with flexible filtering. Linked Case or Precedent Case tags.
Quick and Advanced Search
Access & Audit
Authorised access only, with case-level restrictions. Full audit trail. Data encryption. Single sign-on option. UK based, ISO 27001 data centres.
Access & Audit
User Admin Tools
Key system elements are maintainable by authorised administrators. e.g. lookup lists, fields, user permissions.
User Admin Tools
Data Protection
The integral file management utility lets you manage data and records according to data protection policies.
Data Protection
Our customers all share a desire to offer the best possible customer service with the least amount of fuss.

"The team members are absolutely delighted with Workpro. They have picked up using the system brilliantly. It is intuitive and user friendly and you can easily work through the steps."

"The HR team enjoy the greater degree of control Workpro gives them over their workload. The service provided to the business as a result has improved, with easier reporting to line managers on case status for example, as well as reduced turnaround time for case handling."
Flexible hosting to suit your business
Workpro is available as Software as a Service or as an On-Premise installation. The choice is yours.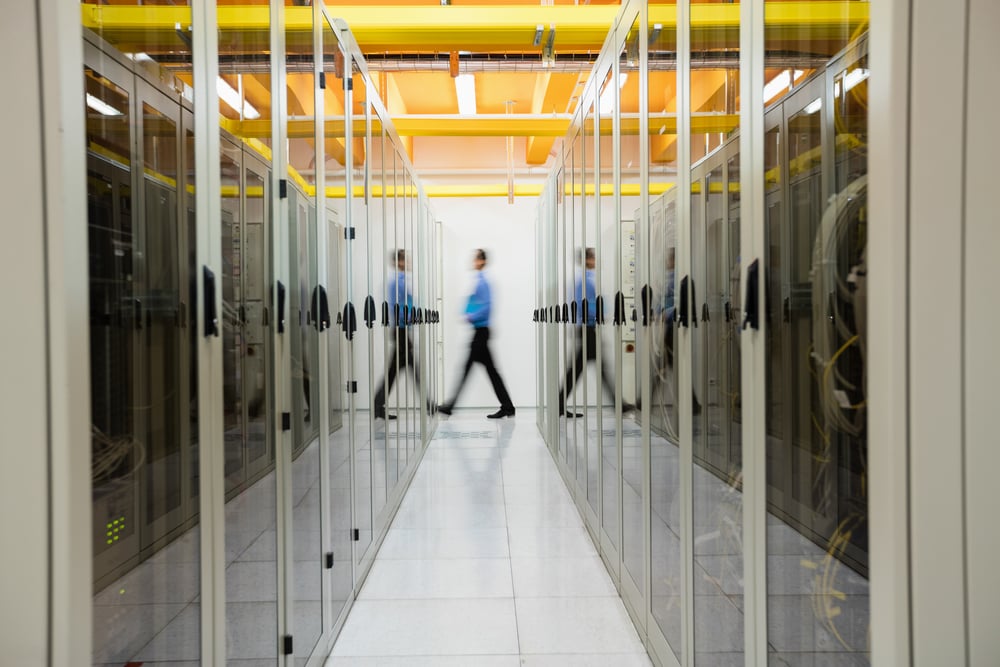 Ready for a demo?
Contact our sales team