Financial Services Complaint Management Software
Automated, accurate FCA reporting – to ease your workload and protect your reputation.
Treat your customers fairly, every time – with a system which handles and records each complaint to the highest standards demanded by the FCA.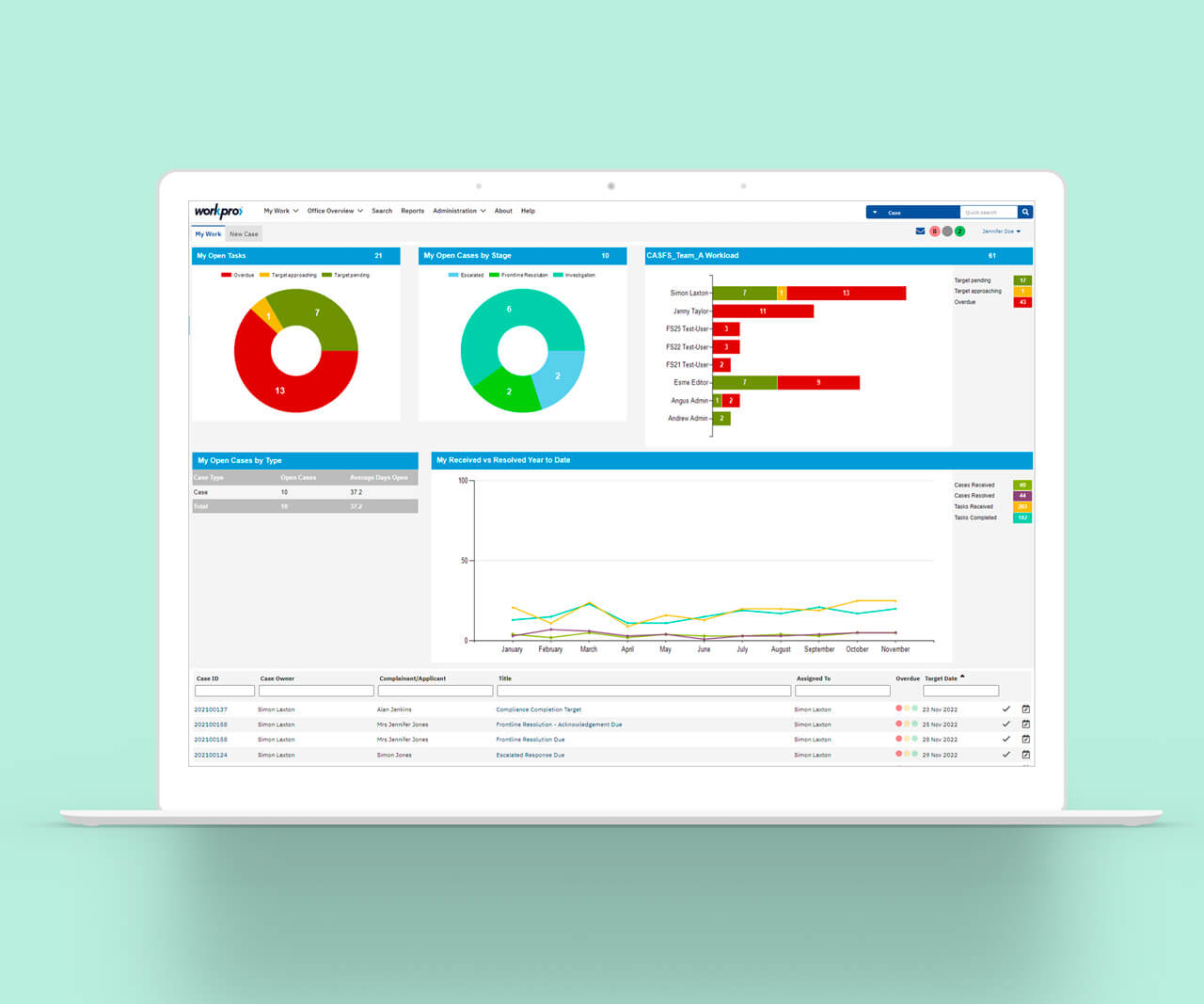 Workpro automates your reporting – mapping your product and case categories to the precise FCA terminology. But it goes much further, offering total visibility of every part of the complaints process, and the control you need to improve working practices.


Reduce the risk of poor complaint-handling
Workpro comes with FCA timescales and targets built-in - your team is guided through the correct complaint-handling workflow. It includes all your mandatory correspondence templates, such as the FCA Summary Resolution Communication. Your FCA DISP reports are generated with the click of a button.
Workpro is focused on customer care, offering a consistent, fair and transparent process. That includes processing data directly from a web form – as well as capturing and recording the complaints you resolve at the frontline.
Workload management and performance monitoring are addressed too, giving you complete oversight – and a clear process for learning from complaints.


Benefits at a glance
FCA DISP reporting
FCA targets and templates
Treat the customer fairly, every time
Improve productivity


Included as standard
Three-stage complaints workflow
FCA-compliant targets and alerts
Templates for letters and emails, including SRC
Standard reports library including FCA DISP
GDPR-compliant data protection case types
All customisable and extendable
Case Capture
Quickly record all case details, however, they come in (email, letter, web, phone, text and social media).
Case Capture
Configurable workflow
'Out-of-the-box' FCA compliant workflow, that is also configurable to your terminology and processes.
Configurable workflow
Document management
Store all documentation in the case record and easily bundle it for sharing. Optional PDF editing and redaction.
Document management
Alerts & Reminders
Highly visible alerts, reminders and tasks drive action. FCA targets and thresholds are built in to the workflow.
Alerts & Reminders
Auto-populated Templates
FCA-compliant document templates e.g. Summary Resolution Communication. Auto-population of case data.
Auto-populated Templates
Quick and Advanced Search
Everything is searchable, down to document level, with flexible filtering. Linked Case or Precedent Case tagging.
Quick and Advanced Search
Performance Monitoring
Track casework using comprehensive dashboards, case and task views, with any issues highlighted.
Performance Monitoring
Automatic Mapping
From client terminology to FCA Product/Service names and Product/Cause Categorisations.
Automatic Mapping
FCA Reporting & Analysis
FCA reports & targets built-in. Redress Cost Analysis. Lloyd's notification options available. Root cause and trend analysis.
FCA Reporting & Analysis
Access & Security
Authorised access only, with case-level restrictions. Data encryption. Single sign-on option. UK based, ISO 27001 data centres.
Access & Security
Case and Task Ownership
Allocated case owners ensure accountability, with a full chronological audit trail. Re-assign cases as necessary.
Case and Task Ownership
User Admin Tools
Key system elements are maintainable by authorised administrators. e.g. lookup lists, fields, user permissions.
User Admin Tools
Flexible hosting to suit your business
Workpro is available as Software as a Service or as an On-Premise installation. The choice is yours.