Ombudsman Case Management Software
Put things right, consistently, fairly. Report outcomes. Promote continuous improvement.
Case management software designed with Ombudsman, for Ombudsman. Gain complete control of all casework, with rich reporting and robust accountability.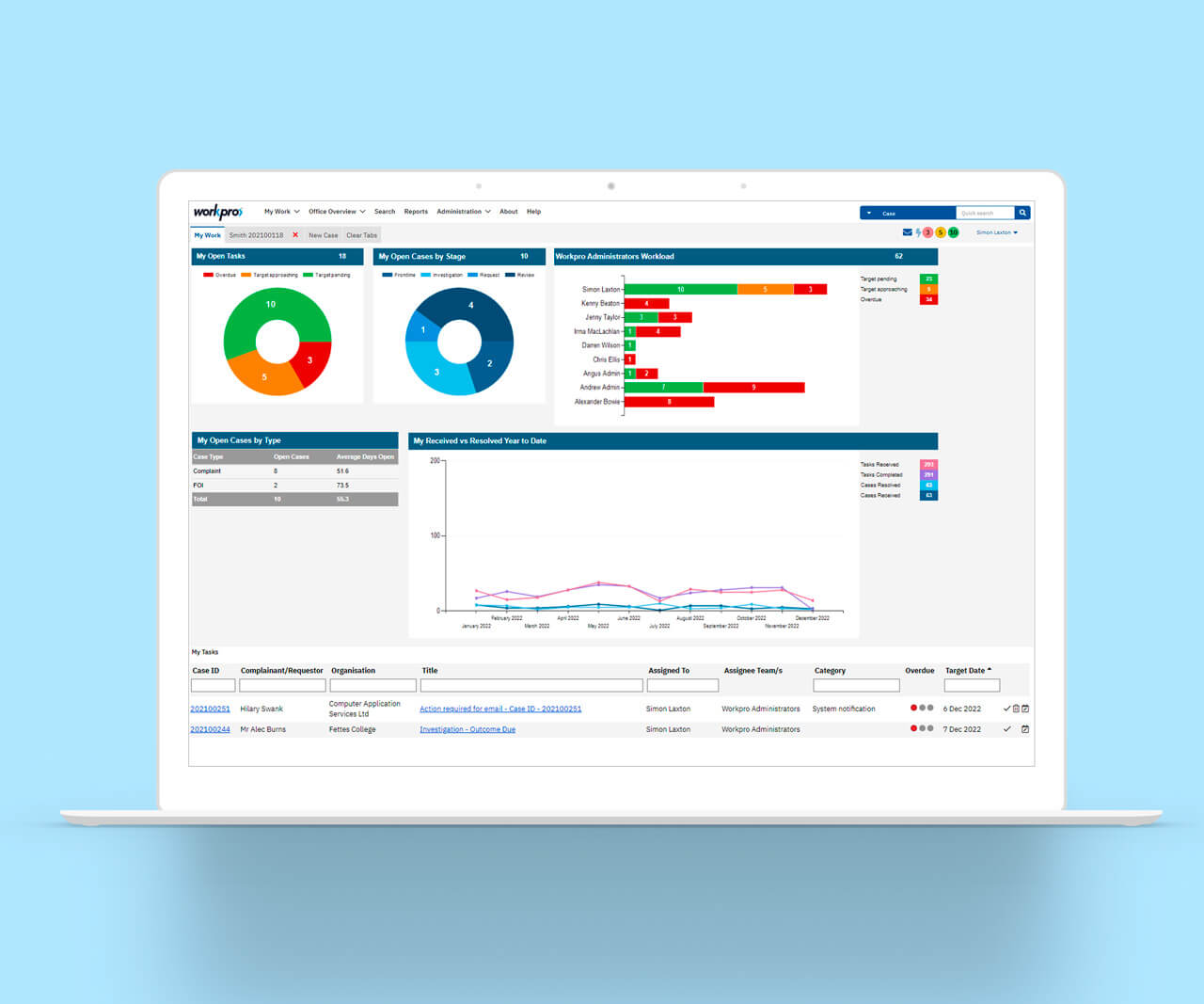 Workpro is the leading Ombudsman case management solution. Used by Ombudsman and Commissioners throughout the UK and worldwide for nearly two decades, the Workpro team really understand how to optimise IT solutions for regulatory schemes.
Manage all cases - from enquiries and complaints to information requests – in one, comprehensive system. The workflow-based system guides staff through the correct process every time - ensuring compliance, reducing admin, and improving efficiency.


Accountability, Openness, Fairness
Workpro gives you a single view of your organisation's entire caseload, with full transparency of every action taken and clear prompts for next steps. Vulnerable and sensitive cases are flagged. Nothing can slip through the cracks. You control access rights.
Above all, the system improves outcomes for your customers. Analyse the wealth of data Workpro collects to spot trends and identify root causes. Reports feed into improvement initiatives across your jurisdiction. Helping you to address systemic issues, to put things right.


Benefits at a glance
Streamlined, effective case management
Consistency and control, across all case types
Comprehensive, rich reporting and analysis
Cost-effective and low risk - a proven, trusted system.


Included as standard
Three-stage case workflow, adaptable to your process demands
GDPR-compliant information requests workflow (FOI, EIR, DPA and SAR)
Templates for letters and emails
Standard reports library
Targets and alerts adjusted to match your KPIs
All customisable and extendable
Case Capture
Quickly record all case details, however, they come in - email, letter, web, phone, text, or via our Workpro Connect portal.
Case Capture
Configurable workflow
Adapts to case type and guides users through the correct process at each stage. Includes Complaint and FOI/SAR case types.
Configurable workflow
Document management
Store all documentation in the case record and easily bundle it for sharing. Optional PDF editing and redaction.
Document management
Alerts & Reminders
Highly visible alerts, reminders and tasks drive action, while any vulnerabilities or risks are flagged.
Alerts & Reminders
Auto-populated Templates
Email and letter templates are auto-populated with case data, with seamless MS Word integration.
Auto-populated Templates
Case & Task Ownership
Allocate and reassign case owners for full accountability. Tasks can be manually or system-generated.
Case & Task Ownership
Reporting & Analysis
Built-in standard reports library and flexible report writing tools. Well categorised data ensures accurate, meaningful reporting.
Reporting & Analysis
Performance Monitoring
Track casework using comprehensive dashboards, case and task views, with any issues highlighted.
Performance Monitoring
Quick and Advanced Search
Everything is searchable, down to document level, with flexible filtering. Linked Case or Precedent Case tags.
Quick and Advanced Search
Access & Security
Authorised access only, with case-level restrictions. Full audit trail. Data encryption. Single sign-on option. UK based, ISO 27001 data centres.
Access & Security
User Admin Tools
Key system elements are maintainable by authorised administrators. e.g. lookup lists, fields, user permissions.
User Admin Tools
Data Protection
The integral file management utility lets you manage data and records according to data protection policies.
Data Protection
Our customers all share a desire to offer the best possible customer service with the least amount of fuss.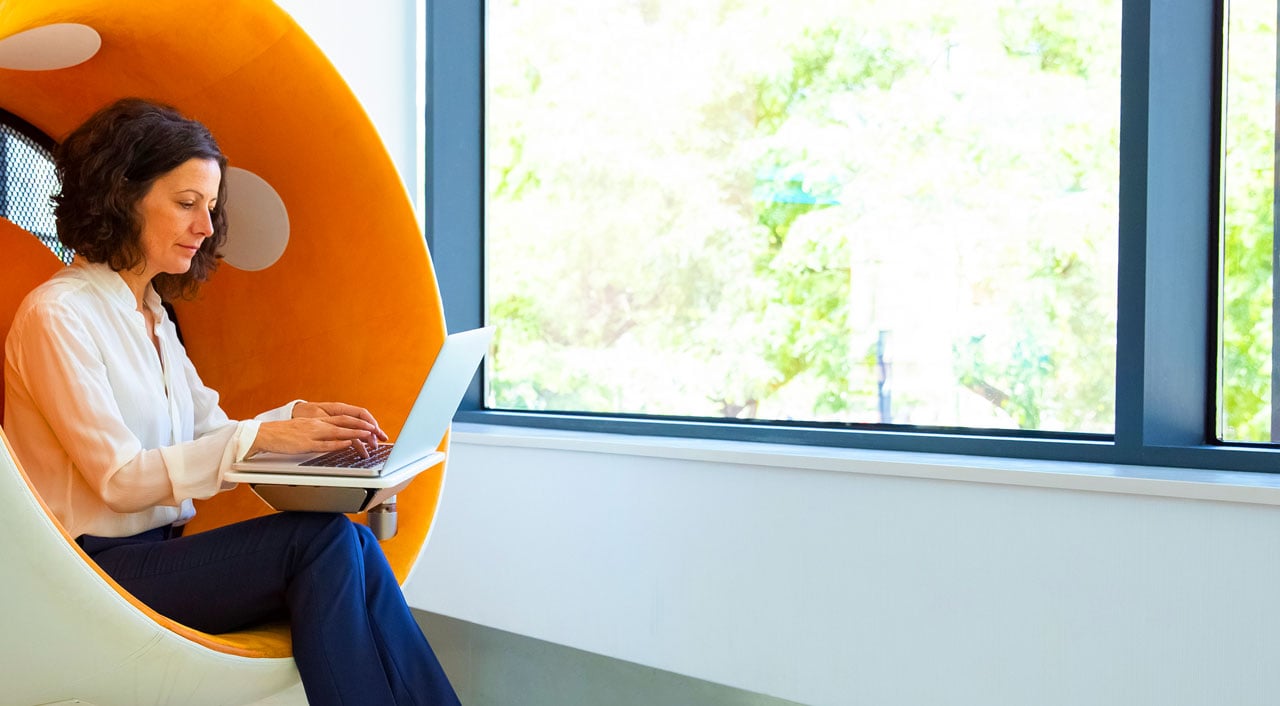 "Our business is looking into complaints and the vast majority of LGO's staff rely on an effective case management system every day, if not every hour. The Workpro team supported us to make our system as straightforward and simple to use as it can be, yet flexible enough to adapt to our changing..."

"Workpro works seamlessly across platforms as a browser-based implementation and is easy for our team to navigate. The product is also highly customizable, allowing us to reflect how we want our workflows to operate within the system. The Workpro team has been insightful and responsive as we've adapted the system to our changing needs over time."

"Workpro empowers us to do the things we need to do as an organisation and as individuals. It mirrors our approach to casework. You are free to use your own initiative, while keeping to the things that have to be done. It's so flexible but we can really funnel use of the system through validation and field labels. Workpro allows us to be as consistent and directive as we want to be."
Flexible hosting to suit your business
Workpro is available as Software as a Service or as an On-Premise installation. The choice is yours.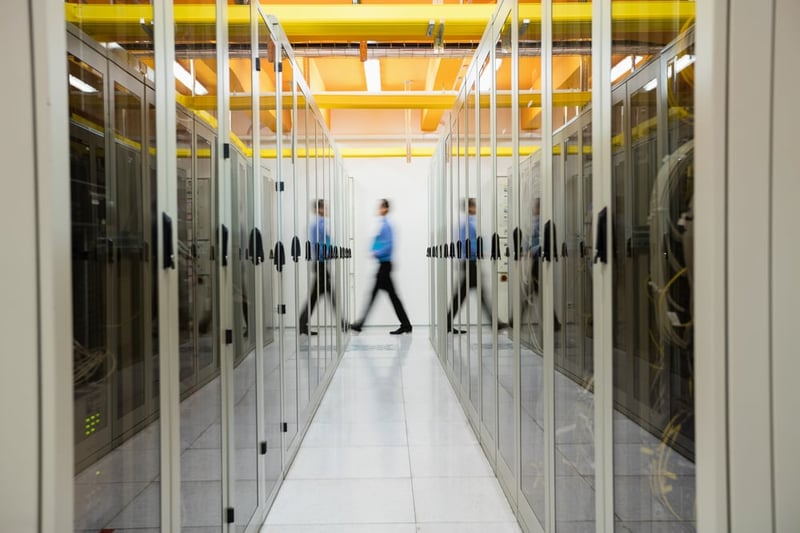 Ready for a demo?
Contact our sales team