Supporting line managers with HR case management
Ensure your line managers have all the tools and information at their fingertips to manage cases the right way.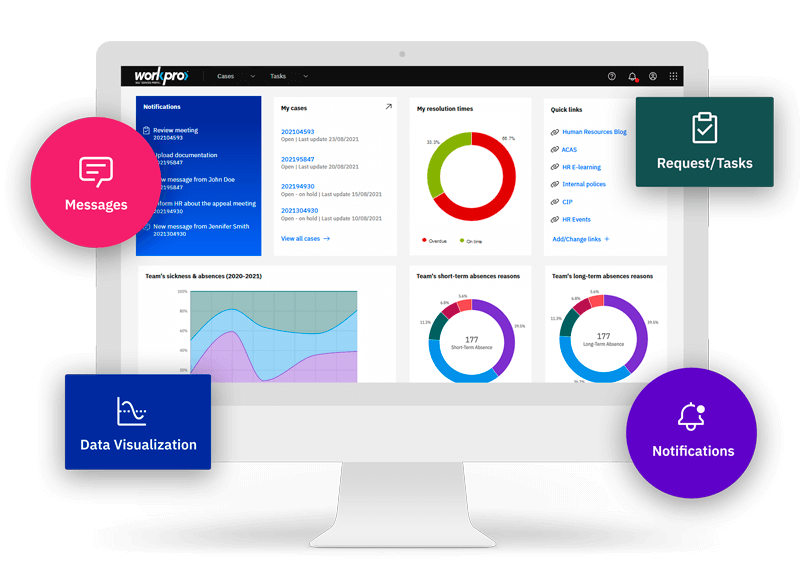 From absences to grievances and performance, and all the other issues that can arise in a team, line managers play a huge role in maintaining good employee relations. How do you ensure this happens fairly and consistently across your organisation?
This is where the Workpro Connect comes in. It ensures your line managers have all the tools and information at their fingertips to manage cases the right way – while providing the HR team with actionable insights to improve employee relations and case handling where required.
Many organisations we speak to are seeking to empower line managers to manage HR cases more efficiently by increasing self-service capabilities for them. Effective escalation routes are also essential – for the trickier HR cases that require HR professional support.
Workpro Connect is designed to provide a clear, intuitive case management tool for line managers. It includes collaboration tools for support from the central HR team as needed. With every case logged, actioned and reported on within one system, the HR team and their managers can see exactly what is going on throughout the organisation.
Workpro Connect is an add-on to Workpro HR case management software. Together they streamline everything into one system that gives everyone confidence where it matters most.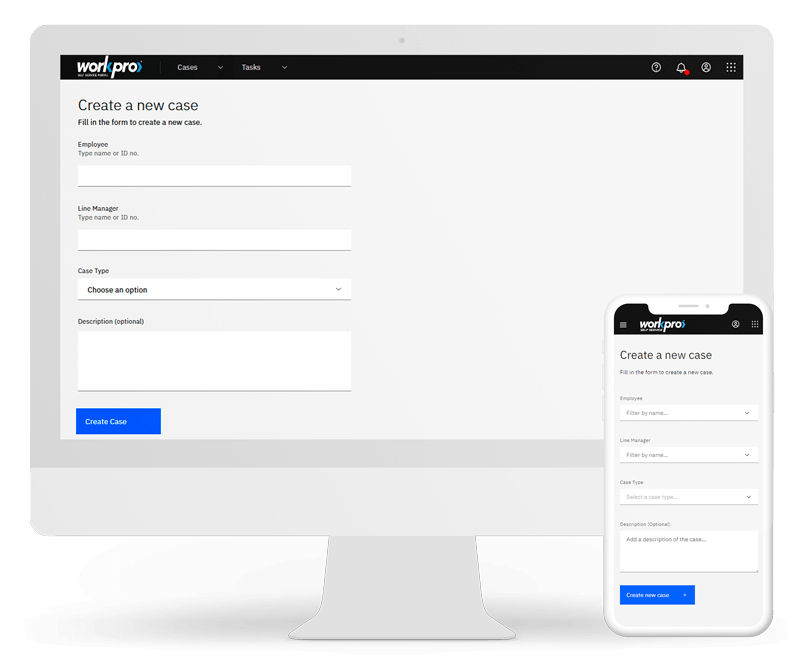 Workpro Connect - Case Creation
Time-saving
Cases are logged once by line managers directly into the portal. Case creation is quicker and duplication avoided, as the case record is also visible to central HR.


Case-related communication

is sent and received within the Portal, making it easier to share and track correspondence.



Mobile-friendly access

means that tasks don't have to wait until managers are at their desks. Reminders prompt action.


Quick links to policies and training ensure line managers have the information they need at their fingertips.
Better Oversight
Every case is captured from day one, not just ones that need to be escalated to HR, providing a more complete picture of employee issues across the organisation.


The dashboard gives managers a clear view of all cases they are involved in, with task status clearly highlighted.


HR managers have an overview of the organisation as a whole, while line managers only see their own team.


Priority or sensitive cases can be highlighted and easily escalated.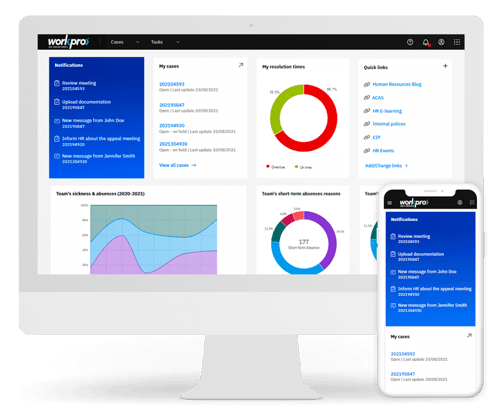 Workpro Connect - Line Manager Dashboard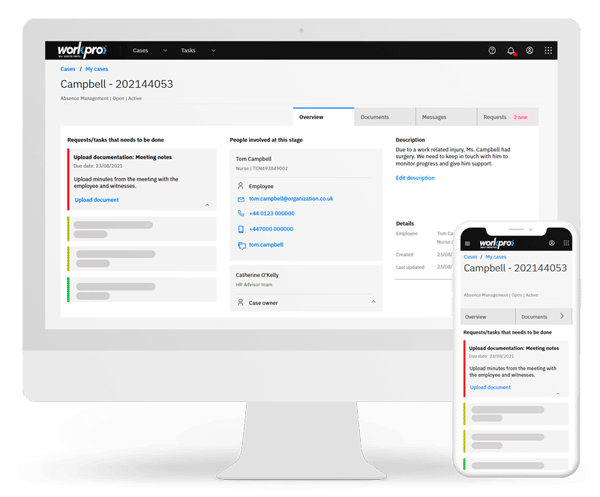 Workpro Connect - Case Overview
Security & Compliance
All case-related data is stored in one place, with robust security and access measures in place.


Helps line managers follow processes correctly by guiding them through easy-to-follow forms.


Remote management of HR cases is easier and more secure, with all case information stored in one place - no matter where HR managers, line managers or employees are.


Clear, chronological audit trails are maintained – proof should you need it of how a case was handled.


Consistency is built in - one of the main factors an employment tribunal considers when evaluating how an organisation has handled a case.
My Tasks
Tasks are easily viewed and accessed via this screen, helping individual managers keep on top of all tasks across cases. This view also includes user-friendly traffic light colour coding.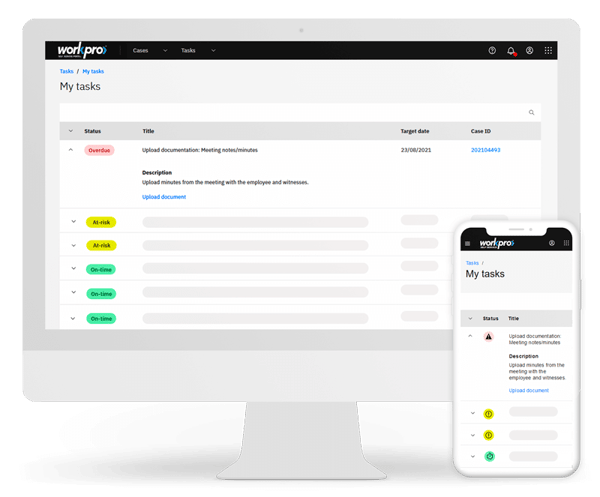 Workpro Connect - My Tasks Screen
My Cases
For managers with multiple cases, the "My cases" view gives a quick overview of their assigned cases and their status.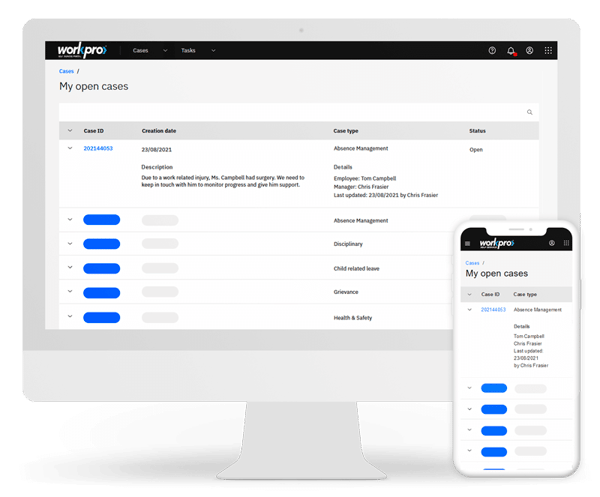 Workpro Connect - My Open Cases Screen
Case Documents
Line managers can upload and view documents easily. All documents related to the case are stored together securely in one place, accessible to authorised users only - you control who can see what.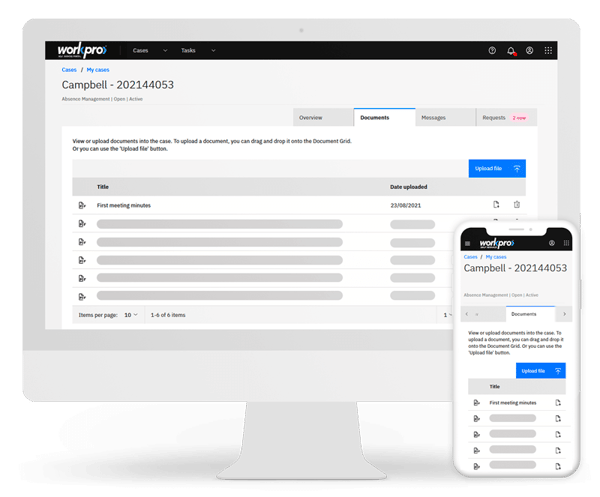 Workpro Connect - Case Documents Screen
Case Messages
Case-related messages are sent within the system for collaboration between Line Managers and HR teams. These can be easily recorded and accessed in the Case Messages area.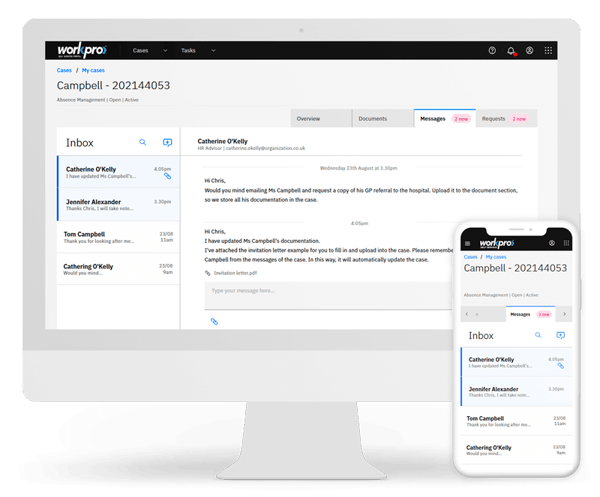 Workpro Connect - Case Messages Screen
Ready for a demo?
Contact our sales team