Supporting your customers with self-serve tools for cases
Workpro Connect is a module for Workpro case management systems which links external users with caseworkers. It provides a secure, self-service portal where customers can view and submit their cases, and easily provide the information caseworkers need to deliver responsive service.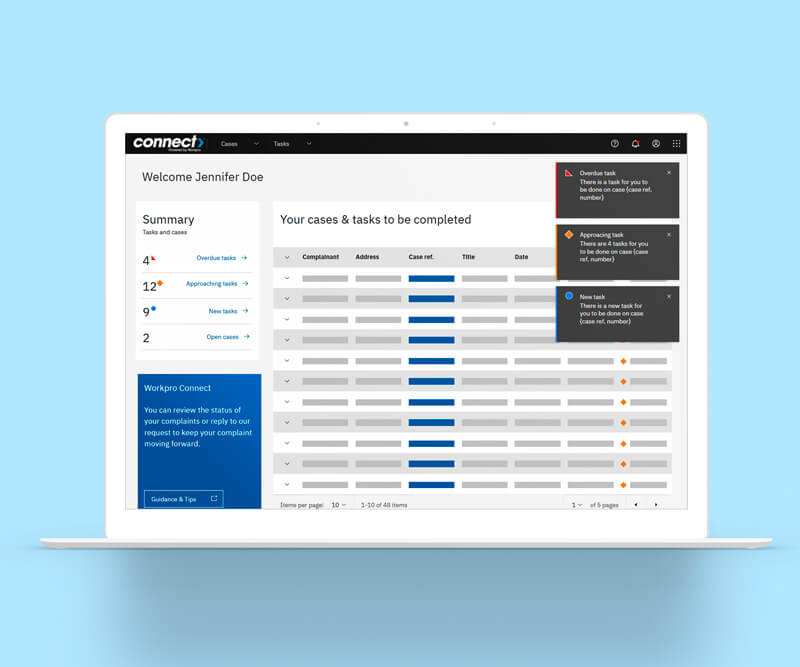 Workpro Connect is designed for non-case workers. An optional module for Workpro case management systems, it allows caseworkers to reach their customers in a secure and accessible format.
It provides authorised portal users with an online channel where they can submit, track and manage cases , with guidance from your casework team. Portal users can:
Fill in forms and create cases
View a list of their open and closed cases
Review case statuses
Upload, exchange and download documents on a case

Respond to tasks and messages.
Workpro Connect integrates directly with your main Workpro case management system. Caseworkers can assign tasks to portal users from the main Workpro system. Workpro Connect users can view outstanding tasks on their case, action them and mark as complete, or give a reason why they are unable to complete an action. Supporting documents can be uploaded through a drag-and-drop function or directly from a file explorer. Finally, a messages tab allows quick communication between user and caseworker.
With every case logged, actioned and reported on within one system, your casework team and their managers can see exactly what is going on throughout the organisation.
Workpro Connect is an add-on to Workpro complaints management software. Together they streamline everything into one system that gives everyone confidence where it matters most.
Time-saving
Cases are logged once directly into the portal. Case creation is quicker and duplication avoided, as the case record is also visible to your central team.


Case-related communication is sent and received within the portal, making it easier to share and track correspondence.


Mobile-friendly access means that tasks don't have to wait until portal users are at their desks. Reminders prompt action.

Quick links ensure portal users have the information they need at their fingertips.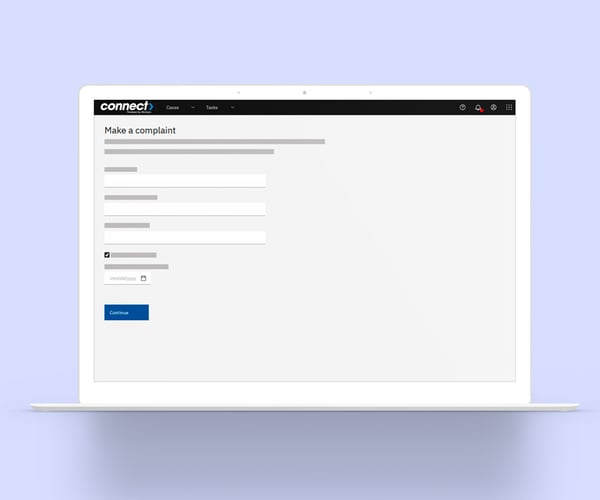 Workpro Connect - Case creation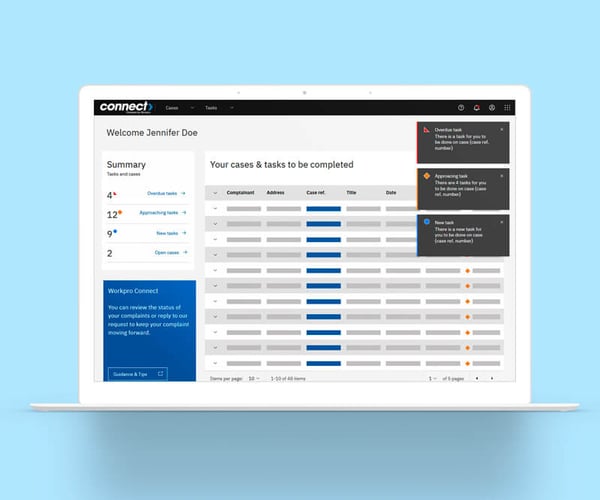 Workpro Connect - Line Manager Dashboard
Better Oversight
Every case is captured from day one, not just ones that need to be escalated, providing a more complete picture of issues across the organisation.


The dashboard provides a clear view of all cases they are involved in, with task status clearly highlighted.


Your managers have an overview of the organisation as a whole, while portal users only see their own cases.


Priority or sensitive cases can be highlighted and easily escalated.
Security & Compliance
All case-related data is stored in one place, with robust security and access measures in place.


Helps portal users follow processes correctly by guiding them through easy-to-follow forms.


Remote management of cases is easier and more secure, with all case information stored in one place - no matter where your team are.


Clear, chronological audit trails are maintained – proof should you need it of how a case was handled.


Consistency is built in - key factor regulators consider when evaluating how an organisation has handled a case.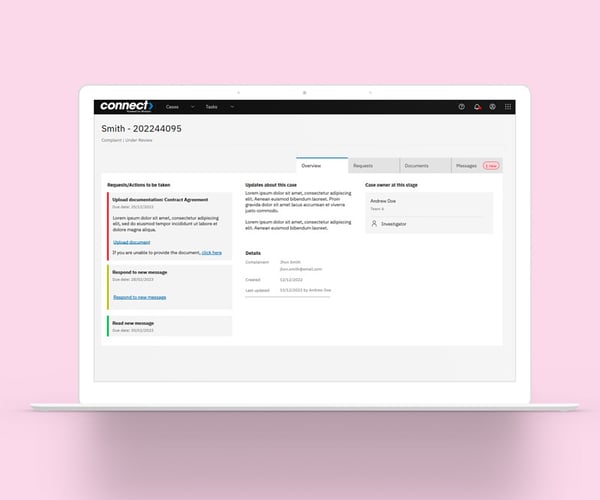 Workpro Connect - Case Overview
My Tasks
Tasks are easily viewed and accessed via this screen, helping portal users keep on top of all tasks across cases. This view also includes user-friendly traffic light colour coding.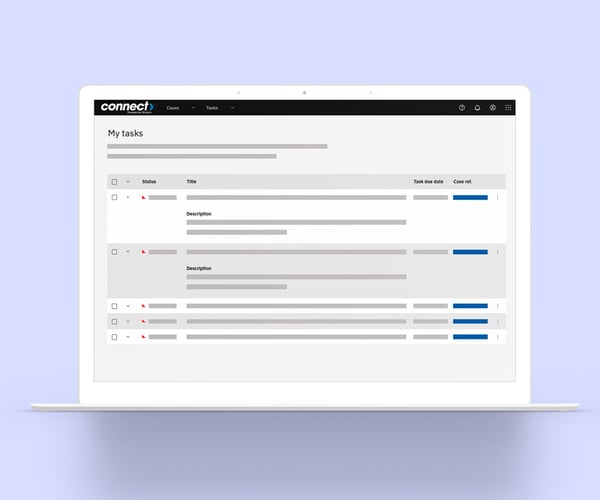 Workpro Connect - My Tasks Screen
My Cases
For managers with multiple cases, the "My cases" view gives a quick overview of their assigned cases and their status.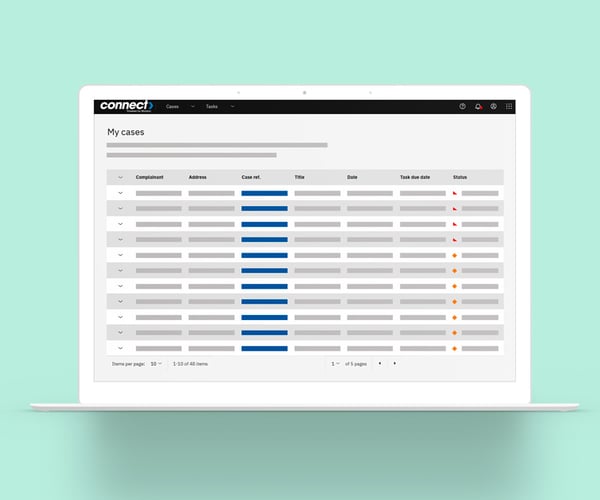 Workpro Connect - My Cases Screen
Case Documents
Portal users can upload and view documents easily. All documents related to the case are stored together securely in one place, accessible to authorised users only - you control who can see what.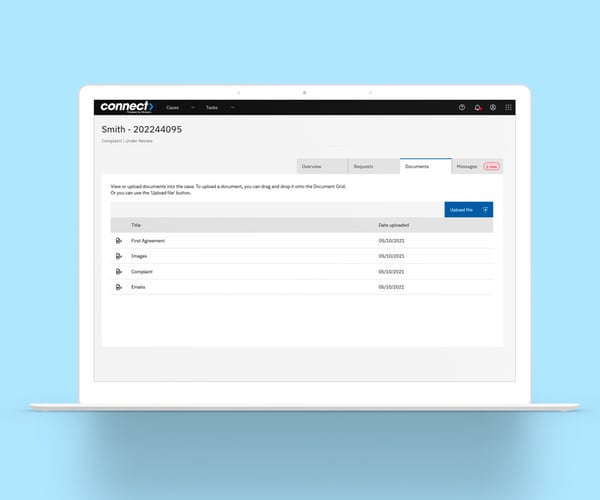 Workpro Connect - Case Documents Screen
Case Messages
Case-related messages are sent within the system for collaboration between portal users and central caseworkers. These can be easily recorded and accessed in the Case Messages area.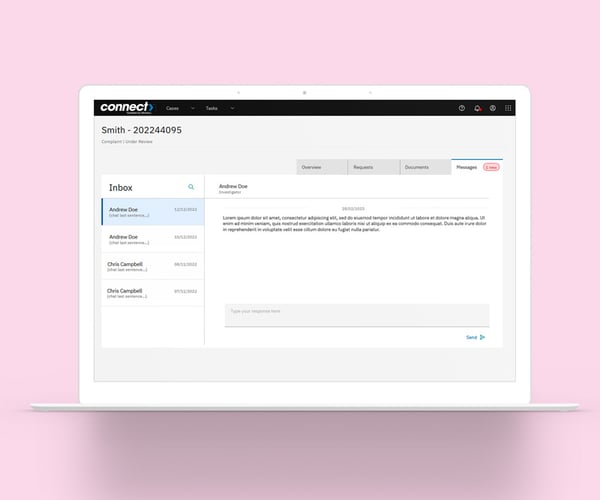 Workpro Connect - Case Messages Screen
Workpro Connect & Housing Ombudsman Service
The Housing Ombudsman Service is using Workpro Connect to enable easier communication and collaboration between landlords and caseworkers.
The Housing Ombudsman Service (HOS) handles complaints about registered providers of social housing. They are independent from the government, but sponsored by the Department for Levelling Up, Housing & Communities – so transparency and consistency are crucial.
You can read more about HOS' interactive case portal in the case study below.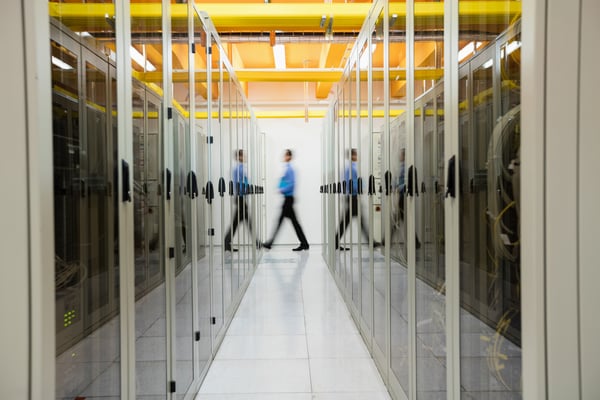 Workpro is available a Software as a Service or as an On-Premise installation. The choice is yours.